Hi everyone,
Nearly a month ago I created
a thread here
asking about the word-limit on craft designs. As it turned out, the issue was neither a bug, nor an intended feature, but an imposed limitation of the game's engine. Prior to
@Keroc
clarifying this, the thread generated some interesting tangential discussion. A lot of people made clear their stances on writing standards and the craft approval system. Since making that thread…
I begrudgingly trimmed down the examined desc of the relevant item to conform with the line-limit, resubmitted it, and got it approved (with some modifications!)

I noticed, later, that a solution was found around the word-limit, and that we now have a new command which lets you use the editor to enter the examined desc. Thanks, staff!

I've read, reread and triple-read all of the relevant design help-files to make extra sure I understand all the various nuances of crafting rules.

I've gotten a lot more practice using the crafting system and talked to others to learn their thoughts and experiences with it.

For the patience many people have shown me in answering my endless questions on the crafters channel, I'm very grateful. Thanks particularly to
@Becue
and
@Kanivara
for helping me painlessly see through one incident involving a very expensive ostrich. I'm having a lot of fun on Aetolia and don't intend to be a source of negativity in the community, but I've become increasingly frustrated with the craft approval system of late, and want to raise it for discussion once more.
From HELP APPROVAL, for approvers:
Keep in mind that you are not looking to make sure designs are perfect, but rather that they are suitable for the game and meet what they need to.
[You should not be] 'Improving' designs to meet your own quality standards. Your opinion on wording is not valid. What is valid is the above stated items.
You do not have to wear it, you do not have to sell it. Your only problem is ensuring it is correct as far as language goes.
Across my multiple experiences with more than one isolated incident thus far, approvers have not, by and large, been adhering to the above standards given to them. This isn't about any specific design, but the general attitude I've come across in even in the first crafting-related thread I created — which is why in the end I thought it best not to reply. So I want to raise the question in the title for staff and players alike to consider, but first:
Whom does the craft approval system benefit?
If I had to guess, I would say...
It provides quality-assurance for one of the game's main target audiences: readers and writers, who require that the environment possess linguistic integrity in order to get immersed, invested, and spend their money.

It preserves the theme of the game for the above category, so that they don't get annoyed and leave when someone rolls out a Beyoncé-style leotard.

It keeps things 'PG-13'... supposedly. (To be honest, I don't really understand this one. I mean, have you been to Tcanna? Bloodloch? We have crucified child slaves and cats whose faces have been ripped off and you're worried about dildos?!)

It ensures that the game's graphics, which are made of text, are legible and easy to interact with. (E.g., trying to grab a pair of trousers when the craft's ID is actually 'leggings' would make life difficult.)

It keeps things fair and balanced towards other players. If you want to make something fancy out of starstone and spidersilk, you need to either make the same investment as other players (buy/quest for the relevant commodity) or settle for the same commodities that everyone else who didn't want to go through the extra hassle had to, and make your craft more ordinary. If you buy tailoring, you shouldn't be able to use it for the same ends as someone who's spent credits to have both tailoring and jewelcraft.

It saves the crafter embarrassment should they happen to make a typo.

That's it. The end. It doesn't and shouldn't do anything more than what I've listed above. Rules should exist for practical reasons. They are meant to benefit as many people as possible. If they aren't doing that, particularly if they're doing the opposite, they're only getting in the way. Rul
ings
should follow the same pattern.
Now watch this informative video by one of the most eloquent logophiles of our time, Mr. Stephen Fry: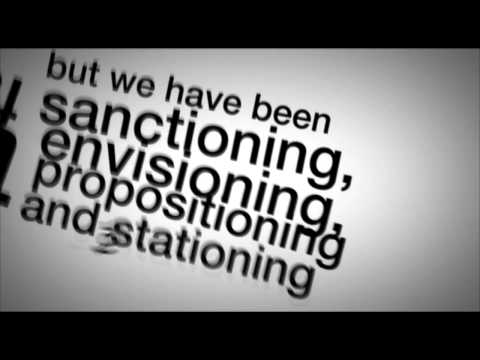 So if you catch yourself doing any of the following:
Scoffing that a coat is described as having 'less than five buttons'

Being frustrated by improper usage of the words 'bemused' and 'demur'

Complaining that a comma-splice should be replaced by a semi-colon

Complaining that a hyphen should be replaced by an en-dash

Correcting other people's interchangeable use of 'lying' and 'laying' to refer to prone objects

Ask yourself: Who am I helping? Am I a logophile?
My answer for you in most cases would be 'yourself' and 'no'.
It's not that there isn't a time and place for stringent grammar, that's what copy-editors are for. But I'm going to take a leap and assume that most of our staff, approvers and players aren't copy-editors, journalists or English professors, going, for example, by the fact that HELP GRAMMAR itself has multiple errors. I also doubt that this is IRE's target audience. I doubt that even an English professor would shun someone who hasn't spent years studying what they do over a comma-splice. (Like the one I made in the first sentence of this paragraph in order to prove a point. Did you notice? Did you care?)
When I ask for someone to review my writing, I take their advice on board. Sometimes I use it, sometimes I thank them but decide to stick with what I've got. I admit, nonetheless, that I'm a little galled by pedants having the power to review my writing whether I'm interested in their opinion or not, particularly to the point of being able to decide what I can and can't write; particularly if I can spot errors in their own writing.
A few people in other threads have made the comment that, 'Well, that's life for you, sometimes at work your boss who knows less than you do also tells you what to do.' True. The problem is this game isn't a job, it's a hobby and a purchase. No one's profits depend on my ability to correctly use a semi-colon; they depend on my ability to have fun.
So...
Whom do strict crafting standards benefit?
Beyond the purposes of the craft approval system listed above?
They don't.
It's a case of players, and possibly volunteers, being a bit mad with power, in my opinion.
---
I want people to consider this for its own sake, as I think that if they do, it will suffice for improving the current state of the craft approval process. But I also want to propose a number of suggestions for coders to change the way things are done:
Suggestion A:
DESIGN # CORRECTIONS [FORCE/REQUEST]
Add an option to pay an extra 1000 gold per craft to have the Trade Guild force corrections on any grammatical errors, typos or material conflicts they find in your craft. Useful for people who are underconfident with their English. The sum will be split between the player approvers on the other end, regardless of whether or not they find any errors with the craft. The approvers will be given commands to edit all fields of the design, including adding commodities or corpse-types.
The craft will still be rejected if there is something else wrong with it: e.g., it's deemed inappropriate thematically in a way that can't be corrected. In this case, the designer will still lose the gold, but the player approvers will not receive it on their end. (As if they did receive it, they could just repeatedly reject crafts to make more.)
Once forced corrections are made, the craft will then be semi-approved. At the Craft Office, you have the option to either pay the fee and accept the edited craft, or if you disagree with the corrections that have been made, you can edit it, comment with the issue and send it back. This will cost an extra 1000 gold every time you do it. In other words, you're better off accepting the changes that have been made if you risk this option.
The default mode for this option is 'request' and is free. If you want your corrections made by request, no edits will be made to your craft, but the Trade Guild will comment on any corrections they want you to make before they approve it.
Suggestion B:
Simplify the grammar rules dramatically.
Sentences should start with a capital letter and end in a period. Other words should be lowercase unless they are proper nouns. Obvious misspellings should be corrected. Beyond that, if the design is legible, doesn't break the theme, uses all the proper commodities, has the correct identity and is made using the right craft, it should be approved. If the Trade Guild spot grammatical errors (e.g., they object to the use of a particular semi-colon or want to make the designer aware of the difference between 'less' and 'fewer'), or even have suggestions for improvement such as: 'Hey, love your craft, but have you thought of using spidersilk instead of gossamer for an added cool-factor?' or 'I notice you've used a lion to represent Spinesreach in this craft. Are you aware that the mascot has been changed to a gyrfalcon?' They can make them, but it's up to the designer whether or not they take those suggestions on board, whatever they are. With a semi-approved craft notated with suggested edits beyond the mandatory ones, they can either say 'thanks, but no thanks' and keep their grammar as it is to receive the approved design, or make the changes and wait for it to be rechecked.
---
If you read through all of this, I'm hugely impressed. If you didn't, the tl;dr is that we should have werecoons, and I thank you for reading.