Didn't see a thread for it so thought it would be fun to start one. This isn't for ranting how someone pissed you off. It's for stories where people did things that were hilarious or left you speechless. I will start. You may leave names (business, person or otherwise) out or replaced of course.
So I work at a hotel, a number of people know this. The type of hotel I work at deals specifically in people who need a temporary place to stay for more then just one or two nights, so we end up with people who stay weeks and months at a time and every single morning we have to *check* if someone is staying longer because they CAN choose to.
I am not normally the one to do this... I hate mornings... normally this is already done when I arrive in the evening, however most recently I had to work a Saturday morning to cover someone else. As per this I went and knocked on every door on my list for people who were due to pay or check out that day.
Now we have this nice chatty old lady sort of guest... I'll call her Jane... Jane is waiting on a condo to be ready and planned to pay again that day. She arrived to the desk over happy and of course her chatty self. Lamenting how she would of slept in and forgot but she was glad I woke her up because her alarm didn't.
Now as Jane is talking about said alarm she proceeds to pull one of these old style alarm clocks right from her purse. I am talking one of these....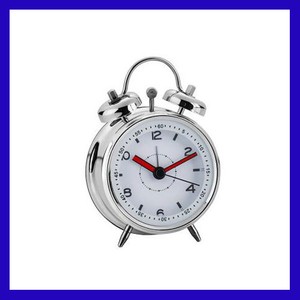 And waves it around in emphasis before tucking it away in her purse again.
I had no words.
All I could do was stare at her at this point in confusion that she literally carries this clock around in her purse like its a cell phone.
o.o